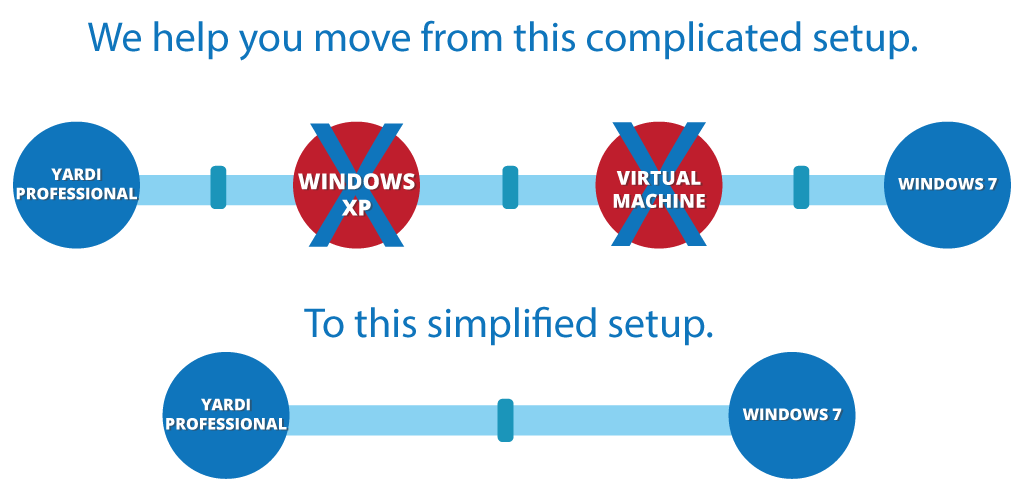 Yardi Professional Users Rejoice!!
Now you can update to Windows 7 home or office operating system and install Yardi professional directly onto your operating system!!
When Windows 7 first came out we were all dismayed to find that Yardi professional could not be loaded onto Windows 7.
The solution: keep Windows XP or use a virtual window through which you had to load Windows XP and then load Yardi professional.
Well the problem now is that Windows XP operating system is outdated and a security risk. If you to continue to run XP you are opening yourself up security problems, software problems, internet issues and your system is probably just running slow and out of date.
If you did upgrade and installed a virtual window and through this window you are using Yardi professional, you have your own set of problems. Everytime you have to access Yardi you need to enter this virtual realm that is slower than Windows 7, you may be experiencing printing problems, internet or scanning problems inside this realm. One of the most important issues concerns backup. Remember nothing is backed up in the virtual realm.  If you are backing up to the cloud or a external drive, unless you are copying your files from the virtual world to Windows 7 after each session, your files are not being backed up!! Nothing is recognized in the virtual world. If you have problems in the virtual realm and have someone remote in many times they cannot help you because they cannot remote in to the virtual world.
So what has this gotten you? Problems, difficulties and aggravations!! If you decided to just stay with Windows XP you are getting constant messages about out of date software, wondering if your computer is secure and tired of not having a computer that runs fast enough or can run current software because it is out of date.
If you went to the virtual window you are running your own set of issues.
If you decided to abandon Yardi professional altogether but couldn't afford to pay the licensing for the new program and went to different accounting program not geared for property management you are probably not happy.
I want you to know I am just offering this information on my website as a courtesy. I am not involved with this computer company who perfected the technique to install Yardi professional directly to Windows 7. The reason I am offering this information on my website is to get the information out to loyal Yardi customers who are still looking for a solution. When you contact me I will put you directly in touch with the company who can help you and then you work directly with them.
Of course with any new technique there are limitations out of the box. Right now the company can only do this for single users, not network users. They are working hard to get this networked but have not perfected it yet. It only works on single user machines right now.  There are some configuration issues to some Window 7 computers that will need to be done, but that is best left for Jim to talk to you about. I am not the computer expert.
I hope that anyone who is using the Yardi professional software and wants to keep using this software for many more years to come, but still to wants to upgrade to 21st century operating system is as happy as I am to see this breakthrough.
Please use the contact page to call or send me an email and I will put you in touch with the guys who can talk to you about making the changes you need to get this done.
All the best!
Following is a small list of the pros and cons of staying with XP vs. Going to Windows 7.
| | |
| --- | --- |
| PROS (Windows 7) | CONS (Staying with XP) |
| Increase speed | Security risks |
| More security | Inability to use new programs |
| Ease of use | Backup not available in the Virtual world |
| Everything in one | Printing problems |
| Area for use | Remote log in problems |
| New Updates | Microsoft support cut-off |